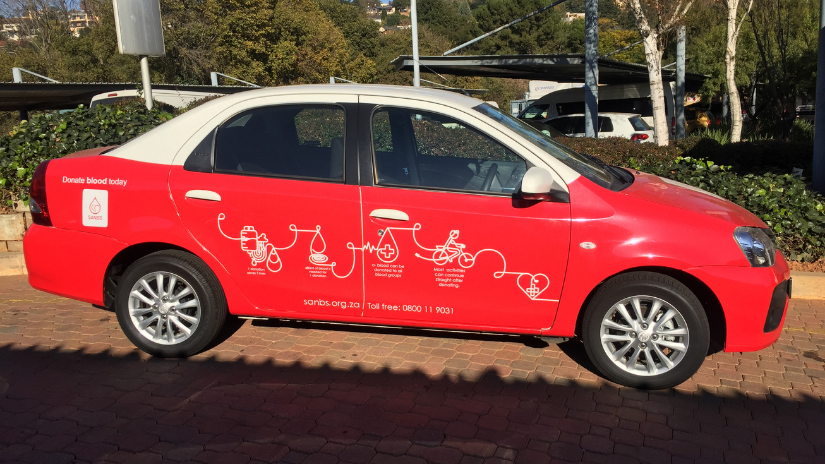 Eqstra Fleet Management, a division of the enX Group, has been awarded a contract to supply value added products and services to the South African National Blood Service's fleet of 368 vehicles.
Eqstra and the SANBS have entered into a Service Level Agreement that governs the day-to-day operations of the fleet thereby enabling the SANBS to successfully save lives daily across SA's hospitals.
"The contract requires comprehensive BI reports and statistics on the SANBS vehicle fleet, and these will be supplied through our new Quest management system," said Murray Price, COO of Eqstra Fleet Management. "The system has the ability to customize the full range of fleet solutions required by the SANBS including full vehicle life cycle management, maintenance management, accident management, roadside assistance, fuel card management and vehicle tracking," he commented. Speaking for the SANBS, Kuben Vather, Senior Manager Operations Supply Chain and Logistics said: "Eqstra has assisted the SANBS in improving efficiency of the fleet and cost savings in the last quarter since the successful implementation of the project."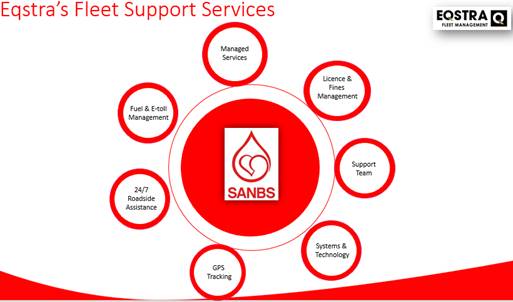 Eqstra supplies value added products and services to the SANBS fleet of 368 vehicles.
About South African National Blood Service
SANBS is a non-profit organisation, which aims to provide all patients with sufficient, safe, quality blood products and related medical services in a sustainable manner. It is rated among the best in the world in the provision of blood and blood products, as well as research and training. SANBS operates across South Africa with the exclusion of the Western Cape, and supports its counterparts across the SADC region.
Website: www.sanbs.org.za, Facebook: www.facebook.com/sanbs, Twitter: @thesanbs
About Eqstra Fleet Management
enX Corporation Ltd T/A Eqstra Fleet Management (Eqstra) is a wholly owned subsidiary of enX Group Ltd. A Johannesburg Stock Exchange listed entity. Eqstra has been operating approximately 35 years and is a key player in the Southern African fleet market.

The core business model of providing leasing and value-added services has been a feature since inception. Eqstra is dedicated solely to delivering a bespoke and integrated corporate fleet management solution. The singular focus and understanding of the market needs has been very well received and today, Eqstra owns and manages a fleet of more than 150,000 vehicles.

Because our business is designed to deliver an optimal customer experience, our product range and service offering has been designed to cater for the unique requirements of each client while offering the most comprehensive range of solutions in the market, including our market leading fleet outsource offering.

In addition to traditional fleet management products, the division specializes in the provision of customized value-added services specific to both passenger and commercial vehicle fleets.

We offer turnkey solutions that include service scheduling, downtime management, onsite and remote servicing of vehicles, roadside assistance, tyre management, refrigeration management, replacement vehicles, accident repairs, fuel management and integrated fleet reporting.

Our goal is to ensure our customers maximize their return on investment through improved efficiencies and value-added services.
Speak to one of our fleet management experts to find out how Eqstra can help you improve your fleet efficiency.