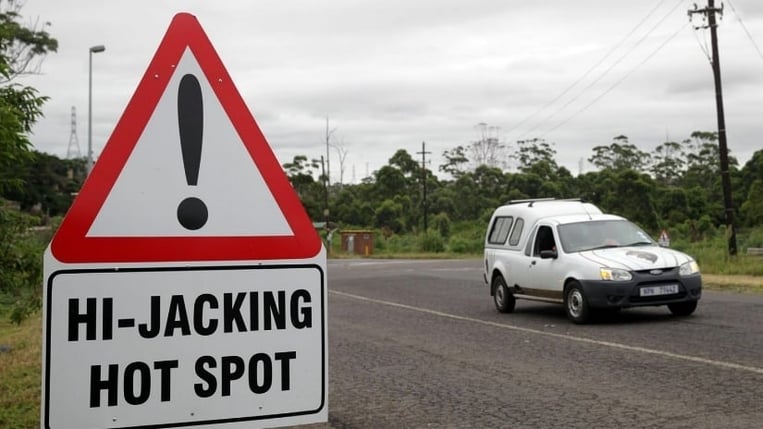 Hijacking is a common occurrence in SA, yet there are thankfully solutions to put your mind at ease.
We've all been there, or know someone who has. Being followed for more than three turns, having a gun held to your head, and being forced to handover a vehicle that is prized, is among all of our nightmares.
In fact, the South African Police Service's latest crime states show, 16 717 cars were hijacked in the 2016/17 year, which is a 14.5% increase, while 1 183 trucks were hijacked - a 1% decline. However, there is good news, even though the best solution is never to sacrifice your life for a vehicle.
We look at some of the fleet anti-hijacking add ons out there to be safe on our roads.
Knowledge
There isn't a price on good old-fashioned knowledge and awareness, but it can be taught. There are companies that teach hijack prevention skills, which will teach vital information such as escape routes and awareness techniques.
Fit a tracking device
Many companies offer tracking devices, which will also help with insurance premiums – you'll save if you have tracking devices fitted. Just be aware that hijackers know about this, and it's difficult to lie when you are under pressure.
Other solutions
A flame thrower, while sounding awesome, is unfortunately illegal! You can, however, legally carry pepper spray. Or deodorant. Ouch. Just don't spray in your own eyes, and check with the seller what's best for vehicles as there are different types of pepper spray.
Other options include a fuel or ignition cut off switch, just make sure you give yourself a fair distance before it kicks in: no-one wants hijackers to battle to start a car within distance of you.
Plan your route before you get into the vehicle, and let someone know when you expect to arrive. Also inform the dispatcher of your route and then follow it. If the route changes you should inform someone.

Mix up your routine. Don't use the same route each day, find alternatives, but know or learn the route, especially if it is a new one or has a drop-off location you've never visited before.
When walking to your vehicle, get your keys ready, but not out in the open, so you can unlock your vehicle when you're close.

Check your vehicle before getting in, so you can be sure no-one is hiding behind your seats.
Keep a close eye on surroundings and stay off your phone as you approach your vehicle.
Unless you are on a freeway, where hijacking is less likely to happen, keep your doors locked and your windows almost closed. Leaving a few millimetres gap on windows means they cannot easily be shattered. There is safety in motion. Be cautious when moving, but know the most dangerous times for hijacking are when your vehicle is stopped.
Keep valuables well hidden

.

Has a vehicle behind you been there for three turns or more? Take note of that, it could mean you are being followed.

If you think you are being followed, head to the nearest police station, or petrol station where there are cameras on the forecourt.

Time driving so you can hit green traffic lights, and not red ones.

Don't stop right behind the vehicle in front of you, you may need to manoeuvre quickly to escape.

Park in a well-lit and busy area, preferably with guards around, and only stop in designated rest areas where there are other trucks parked.

Avoid stopping at the same places every trip.

Lock the vehicle every time you make a stop. Keep the trailer unit locked securely from the moment the vehicle is loaded. Lock the cab and roll up the windows when parked or in slow-moving traffic.

Unlock the truck for as short a time as possible when you stop to rest, eat, or make a delivery.

Do not stop to help motorists in trouble, but call for assistance, and never pick up hitchhikers.

Carry a 24-hour emergency telephone number at all times.

Know the cargo, especially when carrying a potentially hazardous or high-value load, and check the load as it is loaded, to ensure that what is in the vehicle is supposed to be there.

Don't leave a vehicle at the customer's dock.

When making a delivery, don't leave cargo on the street, even if is just for a minute or two.
Keep the vehicle, license plate and Vehicle Identification Number (VIN) numbers of the vehicle on you at all times for both the tractor and trailer. This is valuable information to provide to law enforcement should the vehicle be hijacked.

If you sense you are in danger, hit the button on your tracking device if you have one.

Don't drive over any cardboard boxes or plastic bags left in the middle of the road as these could contain cement or rocks and cause serious damage to the vehicle. You are then forced to pull over, putting yourself at risk of ambush alongside the road.
If you are hiring:
Do employee and contractor screening and background checks and conduct periodic updates of background checks.
Increase the use of high quality seals and padlocks.
Enforce a 'no stop' policy for their drivers when possible, especially within two to three hours of the trip origin.
Drivers should be trained to adhere to strict security measures to prevent hijacking.
Whatever solution you opt for, be safe – your life is worth more than the vehicle.