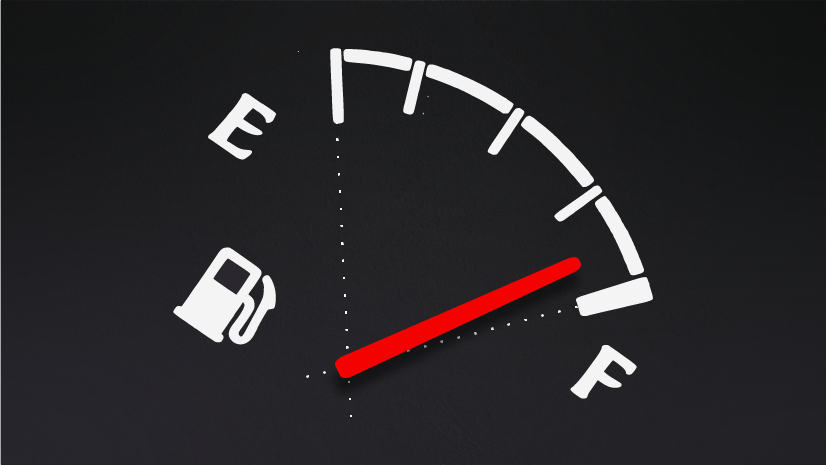 Fuel is one of the biggest fleet expenses, especially with escalating prices. Accurate tracking is the only way to minimise your fleet fuel cost. You'll be surprised at how much you can save with the right systems in place.
The price of fuel is currently a hot topic, but in the world of fleet management, it is always top of mind. As one of your biggest fleet expenses, fuel usage needs to be carefully monitored. Finding ways to save and run your fleet more efficiently will make a massive difference to your fleet budget.
The first step is to invest in a fleet monitoring and tracking system. It doesn't have to be overly complicated and a reputable fleet partner will help you assess your fleet needs and what you can afford. The first and foremost goal must be to save you money. EQSTRA's Discounted Cash Flow Calculator will help you get on track with the big picture including project cash flows, estimated operating costs and revenue. This will give you an excellent starting point to identify which areas of your fleet need the most immediate attention.
The reason you need a professional monitoring and tracking system is simple: an automated system can track your entire fleet in real-time with a much lower risk of human error. It also tracks processes that you might not even be aware are costing you money and would be impossible to track without telemetry. Here are examples of how such a system will help you save:
Case study 1: Eliminate fuel fraud
Fuel fraud is never going to disappear. In fact, when fuel prices increase, the risk of fuel theft increases. EQSTRA recently did a case study with a single staff vehicle in a new customer's fleet. A vehicle tracking system and company fuel card were installed.
By monitoring the vehicle location and comparing it to the exact time and place when fuel was purchased, EQSTRA was able to show that although fuel was being purchased on the card, the company vehicle was at a different location at the time. Which means the card was being used to fuel other vehicles. In this case, the client had
lost R12 700
over a 2-year period
on just 1 vehicle
None of the irregularities were picked up by the client's manual fuel logbook system as they had no way to prove the fuel was not being put into the company vehicle without an effective tracking system. It's also worth noting that such data is admissible in court.
Case study 2: Monitoring driver behaviour will cut costs
Monitoring driving behaviour often sounds a bit 'petty' and vague as it's not always clear exactly where and how this will reduce fuel spend. So here is an interesting real-life example:
A company with an extensive fleet was struggling to bring down costs.
In 1 year,
the fleet managed to
accure R463 820 in fines
There was definite overspending on fuel when compared to the industry average. EQSTRA suggested a solution of vehicle tracking and implementation of the Driver Scorecard System.
Drivers have access to the system and can track their own progress. By adding incentives for the top ten drivers each month the company was able to reduce poor driving habits and the cost of fines. The driver scorecard monitors:
Speeding
Idling
Harsh braking
Fines
Incidents
Usage of rebate-approved service stations
In just 1 year,
the company managed to
bring down its fines by R80 000
and managed to save R630 000
in fuel costs due to drivers utilising fuel rebates. And that's only in the first year.
Case study 3: Comprehensive fleet data
No matter what type of fleet you're operating, it's impossible to keep track of every single detail without modern technology. Recently EQSTRA did a fleet analysis for a client and implemented a comprehensive fleet monitoring system that includes driver monitoring, route optimisation, maintenance scheduling, and fuel rebates. Within
1 year,
the client's
total operating cost decreased by R 740
per vehicle
per month.
Before, the client's fines were at
R152 000
per year
but decreased
to R36 200
per year.
In 2019, the client's
total speeding time was at 5.6%
but decreased, in 2020
to 4.5 %.

Route optimisation incorporated more Caltex service stations
allowing for R1.7 million in fuel rebate savings.
Summary
Although we can't divulge client information, the above examples are taken from real-life experiences with clients. It doesn't matter what type or size fleet you are running: you need access to the right data in order to cut costs. These are just a few examples, there are many additional ways that you could be cutting costs such as:
Tyre management - if tyres are worn or not properly inflated, you immediately start using more fuel than necessary.
Engine monitoring- instantly pick up any engine concerns so that you don't run a fuel-guzzling vehicle for months before realising there is a problem.
Scheduled maintenance - let the experts help you keep your fleet running without missing maintenance dates. A poorly maintained vehicle will cost you plenty in wasted fuel.
Better deals on rebates, lease/purchase agreements, and insurance.
Ensuring your entire fleet is fit-for-purpose.
At the end of the day, it doesn't matter what the current fuel price is. The point is that you can reduce your fuel cost if you have an accurate fleet management system in place.
Accurate data is the only way to cut fleet costs, download our Discounted Cash Flow Calculator to help you with estimating your fleet's operating costs and to project future cash flows.
Or find out what fleet data you'll need to reduce your fleet expenses by contacting one of our fleet management experts.