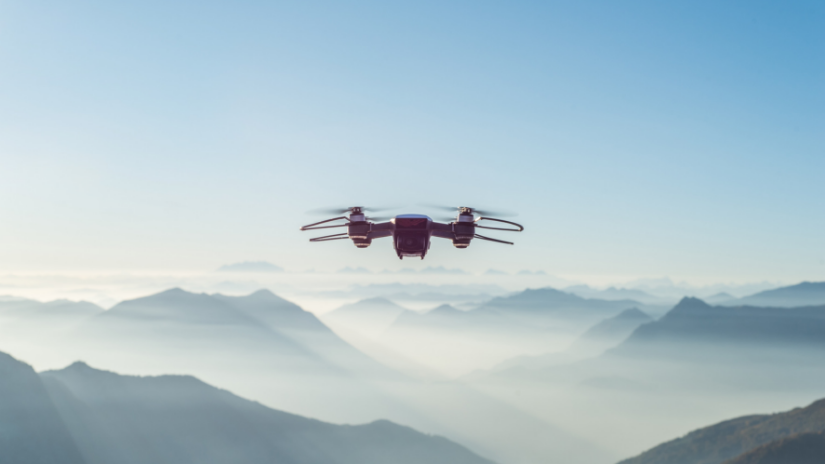 Drones are being used across industries in different ways. So much so that drones are reshaping and creating new industries. While there are many benefits to using drones, perhaps the biggest advantages can be seen when it comes to fleet management.
Unmanned aerial vehicles (UAVs) or drones have evolved from merely toys to test out in the park or as cameras that allow you to take aerial photos to high tech devices that are reshaping and creating new industries across sectors. Drone adoption is rapidly increasing as businesses see not only the value but also the potential revenue.
How drones are currently being used across industries
The e-commerce and package delivery space is currently helping fuel the drone industry's growth. Through Prime Air, Amazon's goal is to develop a fleet of drones that can deliver packages within 30 minutes or less. Closer to home, a few years ago Oppikoppi festival-goers could order beer from an app and get it delivered via a drone that would parachute drop the beer.
In agriculture, drones can be used to increase crop production, monitor growth and even apply fertilizer. According to PwC, agricultural drones could be worth more than $32 billion. In Cape Town, drones are used in vineyards to provide early pest and disease detection. In the insurance industry, drones can be used to help fight fraud and make risk evaluation easier.
Drones are also being used to improve society. DRONET, a global marine litter surveying programme, is helping clean up plastic litter along the coastlines. MIT has developed drones that don't rely on GPS technology and can help with search and rescue in forests. Others are providing life-saving services like Zipline who deliver medicines to those who need it most in Rwanda and Ghana. Drone delivery is a cost-effective way that bypasses complete dependence on vehicles and roads i.e. public infrastructure.This is perhaps one of the biggest advantages of using drones.
The benefits of using drones for fleet management
It is important to note that drones won't necessarily replace existing fleets but will rather become an integral part of fleet management. Logistics companies are already using and analyse data to improve operations and give guidance within a regulated environment. Drones simply provide companies with more data and work within a different regulatory framework. Drones will also help by improving fleet efficiency and safety.
Increase efficiency: small increases in efficiency over time can have a huge impact on operational costs. Consider using drones to work out the best routes and how those savings could help improve the bottom line.
Accessibility: drones can easily access hard to reach places, that are dangerous or out of the scope of human workers, at a fraction of the cost. Similarly drones can be equipped with night vision to ensure continuous operation as well heat sensors that can detect issues that would otherwise go unnoticed.
Improve surveying and inspection: fleet inspections can also be done by drone which reduces the chances of human error.
Automate workflow: another important development when it comes to drone usage is automation. For example, warehouse inventory or even working hours could be checked via drone.
Increase security and surveillance: from monitoring processes and actions to ensuring safety procedures are always followed, drones give fleet managers the ability to monitor their environments like never before.
Insurance purposes: despite improvements in safety procedures, accidents and damages are still a part of any fleet operations. Drones allow you to easily report on the incident without disrupting work flow.
Flexibility: in any business environment, the ability to be as agile as possible can't be overstated. Traditionally in fleet management, massive fixed costs have made it difficult to pivot. Drone technology is new and renting or leasing allows you to reap the benefits without incurring large fixed costs.
Tailor made: the drone manufacturing process is at a much smaller scale than traditional fleet vehicles and can therefore be tailored to your specification at lower labour and manufacturing costs.
Drone challenges
Although the benefits of drones are improving all the time, drone adoption is not without its challenges. In South Africa, the only drone operator allowed higher than 121m from the ground is Denel. Any other operators are prohibited by the South African Civil Aviation Authority. Furthermore, most drone operators require a license despite the fact that drone technology develops faster than legislation.
Another important issue is that of public privacy and safety. While drones used to track down criminals can be applauded, what happens when drones are used to spy on individuals and invade their privacy? Drones are able to gain access to usually hidden vantage points often without anyone realising they are being monitored. The advancement in cameras also means that this footage provides crystal clear image quality and clarity.
Public safety concerns when it comes to drones can't be overlooked or downplayed. As recently as last year, Gatwick Airport grounded several flights because two drones were spotted flying in the airspace surrounding the runway. Other drone disasters include drone crashes, close calls with news helicopters as well as injuries caused by UAVs.

What's next?
The ever - evolving regulatory environment will ensure that drone use will continue to grow while taking into account concerns about safety, security and privacy. When it comes to drone adoption, using EQSTRA Fleet Management allows you to have a competitive advantage by being leading edge without the costs associated with being bleeding edge.
The advantage of working with a fleet management company ensures that you get a level of expertise that is tailored to your business objectives. Using drones for fleet management allows you to easily upscale and grow.
To find out more about how our expertise in fleet management can benefit your fleet, visit our consulting page.