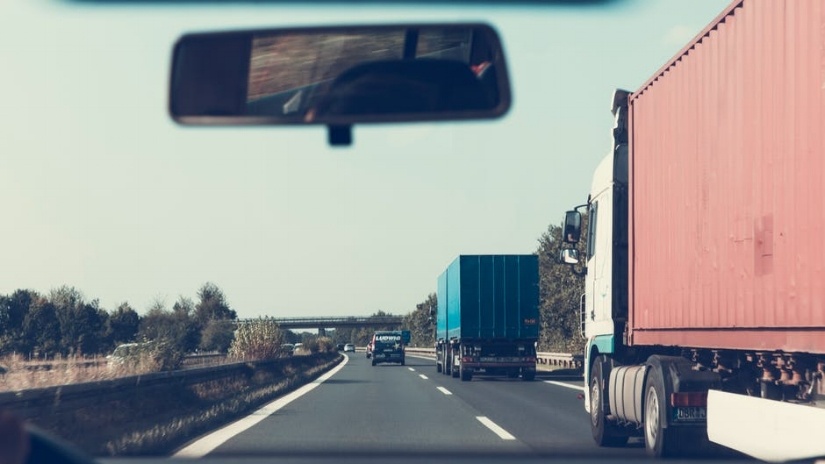 Fleet operators often monitor fleet drivers for protection and rewarding purposes. Here's how you can monitor fleet drivers, too:
Fleet drivers are often monitored through a variety of means, be it dash cams (or helmet cams in the case of motorbike riders), telematics or other recording devices.
While many drivers – or riders – may see this as a form of spying on them so they can be punished, this is far from the truth.
In fact, monitoring drivers is actually beneficial as it helps with all sorts of aspects, including indicating when they are tired, reconstructing accidents, or making their lives, and the life of all staff, easier through eliminating the need to manually log time sheets.
Here are a few examples of monitoring systems that aid both the driver and the company – and more profits are better for everyone when it comes to wages!
Telematics
According to Arrive Alive, vehicle telematics can speed up real information about driving behaviour, which includes improving operational efficiency.
Arrive Alive notes telematics also provides many other applications, which include:
GPS anti-theft systems reduce car thefts:

GPS tracking devices are now widely recognised and required by motor insurers on high-end car models.

Crash data reporting:

Reports can provide insurers and vehicle owners with the necessary guidance to what caused an accident.

Improved risk management for commercial fleets:

Information provided by state of the art vehicle telematics solutions provides insurance companies and their agents with the tools to reward fleet operators who maintain a high standard in traffic safety.

Research assistance:

Floating car data can provide motor insurers with valuable statistical data about driving behaviour that can be used for fine-tuning their complex insurance models for premium calculation.

Vehicle Tracking:

Tracking of vehicles is done by way of monitoring the location, movements, status and behaviour of a vehicle or fleet of vehicles.

Cold storage freight:

Cold store freight trailers are increasingly incorporating telematics to gather time-series data on the temperature inside the cargo container, both to trigger alarms and record an audit trail for business purposes. An increasingly sophisticated array of sensors, many incorporating RFID technology, are being used to ensure that temperature throughout the cargo remains within food-safety parameters.

Fleet management:

This can include functions such as vehicle financing, vehicle maintenance, vehicle telematics (tracking and diagnostics), driver management, fuel management and health and safety management.

Satellite navigation:

The technology of using a GPS and electronic mapping tool to enable the driver of a vehicle to locate a position, then planning a route and navigating a journey.

Wireless vehicle safety communications: This is telematics installed with the purpose of exchanging safety information, about road hazards and the locations and speeds of vehicles, etc.
Emergency warning system for vehicles: "Intelligent vehicles" are equipped with technology intended to accord (blend, or mesh) warning information with surrounding vehicles in the vicinity of travel, intra-vehicle, and infrastructure.
There is also a clear relationship between vehicle telematics and the benefits they are able to provide to the insurance industry in measuring and reporting on driving behaviour. Based on the date feedback via the system on driver behaviour, insurance premiums can be re-evaluated and negotiated. This is especially true if the driver shows they are a lower risk.
Dash cams
Dash cams may seem to be the most intrusive type of technology, but are the most helpful to really explain what happened if there is a situation on the road.
Take for example a road rage incident: a dash cam can clear a driver of causing the matter because it records everything in real time.
The dash cam is specifically designed to record every detail of every sound and image (that it captures) that takes place both on the road and inside the car. It's used worldwide by everyday drivers, driving instructors, taxi drivers, bus drivers, and police officers amongst many others, as they can be easily connected to other on-board technologies like GPS devices.
Among some of the benefits cited include the fact that the camera starts to record in real time as soon as the engine is started, providing efficient, straight-to-the-point proof in case of accident, which can potentially be used in court.
This also makes an insurance case stronger if it's not your fault. Dash cams can be used to reward good drivers, which is especially important when it comes to appraisal time.
Apps
Apps used by companies such as Uber that connect a service, such as a driver service or a food delivery, could become more commonplace because they allow for feedback and direct communication between both the customer and the end user.
As Uber explains it, consumers request a ride, and the app finds the nearest driver-partner heading to a pickup location, including anticipated arrival time, and information about the partner-driver, including first name, vehicle type, and license plate number.
Trips can be changed anytime, and the fare is automatically calculated and billed, which streamlines the whole invoicing process. The systems also allows both parties to rate each other, which is useful if dealing with difficult customers, and rewarding drivers.
Monitoring drivers is not about spying on them, or breaching privacy, but about improving experiences and lifestyles all around.
If you'd like to find out more about telematics and how to monitor your drivers, contact us below: